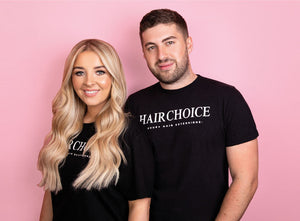 About Hair Choice extensions
Have you been dreaming of luxurious hair ​extensions that give you the confidence to shine? At Hair Choice, we promise you exactly that - whoever you are, whatever your best hair day looks like. Trusted by salon professionals, stylists and celebrities across the globe, we're widely recognised for our innovative approach to accessible glamour. Over 20 years of experience in the hairdressing industry have given us a true understanding of great hair and we're passionate about helping you achieve it, with the best hair extensions for every budget and hair type. After all, doesn't each one of us deserve to feel incredible inside and out?
Got a special occasion and want an instant jaw-dropping transformation with a ready-to-wear hair piece? Or can we interest you in premium, head-turning hair every damn day? Then our fixed styles are for you. Whatever you're searching for, we're proud to bring you an extensive range of the best clip-in hair extensions, tape and weft extensions, in a wide selection of shades and styles. Our co-founders Josh Kelly and Jennifer Lacey have used their expertise to develop cutting-edge hair solutions, taking the hard work out of finding your perfect match. Whether you choose synthetic or human hair extensions, we guarantee high-quality hair products to help you
fall in love with your reflection.
So what about the glamorous girls wearing Hair Choice? Well, our clientele speaks for itself, because when you shop with us, you're in the company of some phenomenal women. Our hair extensions have been worn by stars such as Khloe Kardashian, Rita Ora, Maya Jama, Demi Rose, Dawn Ward, Taylor Ward and Charlotte Dawson. We've also appeared in national press such as The Daily Mail and been featured in The Salon Magazine. In 2021, our Power Pony hair piece earned us a place as finalists in the Pure Beauty Global Awards.
With flexible online payment plans including Klarna and LayBuy, you can buy with confidence. Plus, our colour match service helps you select your ideal shade via Whatsapp, which makes ending your hair-related challenges even easier. We offer fast worldwide shipping, so you could be walking tall in your luxury hair extensions within a matter of days.
Have any questions for us? We're here to help! Our friendly, dedicated team of experts are available to assist you via our website contact form, over the telephone or through direct messaging on social media. We promise to answer all queries within 48hrs.